Expert service from the initial quote to the final coat!
House Painters Auckland
BJA Painting Services specializes in residential and commercial painting in Auckland. No job is too big or too small and with over 25 years experience you can trust that the job will be done right the first time.
When you hire BJA Painting Services, you will be provided with a reliable, professional painter, and quality work right through the entire process. From prep work, plastering, gib stopping, sanding, and painting we take care and pride in our work to ensure the job is done to the highest standard.
Taking pride in being a mostly referral-based business. I have worked hard to build quality relations with my customers, businesses, and other tradesmen all around the Auckland area. That only comes by providing top quality, reliable, & efficient work. Find out more about me and my business.
So get in contact with the best house painters that Auckland has to offer for a no obligation, free quote, and I look forward to hearing from you.
Book a FREE Painting Quote Today!
Auckland House Painters
Over 25 years painting houses and commercial properties in the West Auckland area.
Reliable, quality, and professional contracting work.
No job too big or too small for our Auckland painters.
Prep-work, plastering, gib stopping, sanding, house washing, painting and more!
Expert Painters
Anyone that has ever lifted a paintbrush will tell you the same thing – Painting is more than just slapping some paint on a surface.
Like a fine meal prepared by your favourite chef, there are countless steps that need to be performed first to ensure the final product looks amazing.
Any form of painting requires the painter to follow the same careful steps. This is to ensure that the finished result not only looks flawless but will also survive whatever the world may through at it – Without flaking away in a few months.
House painting is the culmination of all the paint preparation steps and techniques, throwing them into a massive machine and turning the dial to 11.
House painting is the ultimate test of a painting professional's skill, attention to detail. Most importantly, ensuring they prepare the surface properly.
BJA Painting Service understands this and strives to provide you with a professional and quality service that will stand the test of time all while looking great.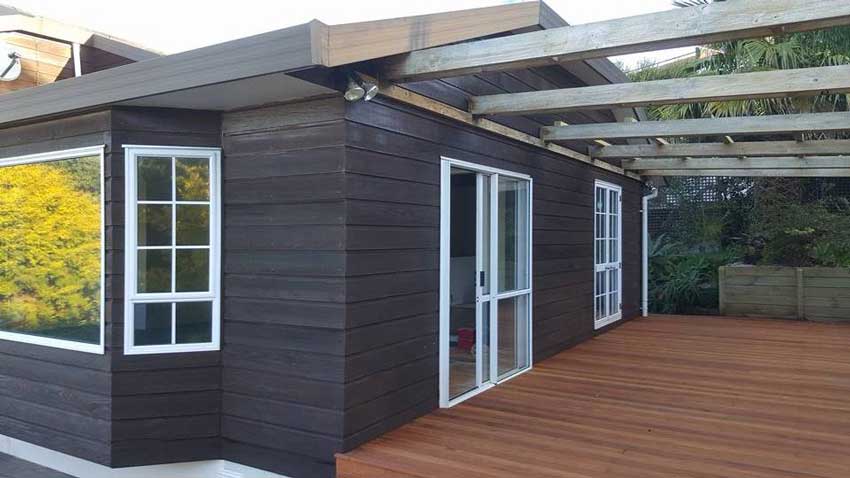 Auckland's Professional Painters – Painting Auckland Homes for over 25 Years
BJA Painting Services takes on every Auckland house painting job like it was our very own home and ensure that no details are missed.
Every surface is prepared properly for the paint job and only top quality paint is used to guarantee a lasting finish.
From Villas and Bungalows to the most modern of homes, we will go above and beyond to give you a lasting paint finish that will survive Auckland's four-seasons-in-a-day weather for countless years to come.
Whether you want to re-ignite the look of your home with a beautiful paint finish in the latest colour trend, or even if you want to paint your new home in a colour that will last till your kids leave for University. BJA Painting Services are the right painters in Auckland for you.
I will provide a top quality professional service right from the free quote to the final layer of paint.
If your old home is encrusted with a rainbow of old paint from previous monkey painters that skipped corners in preparation, I offer a full paint stripping surface that provides a blank canvas ready to be coloured with your paint selection.
With the paint stripped back to the bare surface, the new paint will adhere strongly to it and will not flake away or bubble.
Any gaps that need filling will be filled, any cobwebs will be removed and not painted over and all windows and features will be masked off.
No more paint splattered windows and drains once we are done.
BJA Painting Services will pay attention to every detail and get the surface the proper amount of preparation before a drop of paint is applied.
After we are done painting your house exterior, you'll be so impressed you will want the interior painted as well.
Yes, it has happened and yes we are interior painters as well.
Yes, we take interior painting just as serious as exterior painting.
You can count on it.
Interior Painting
Painting the interior of your house is a great way to add a personal touch to your living space, kitchen, bathroom, bedrooms, and everything in between. Utilizing the subtle (or extreme) use of colour can really re-vamp and freshen up your home.
I have painted the inside of countless homes and it still amazes me to this day how much of a transformation can be made. Simply by touching-up or changing the colour of the interior walls and/or ceilings, you see such an improvement.
BJA Painting Services provides quality and tidy interior painting with great attention to detail.
Exterior House Painting
Painting the exterior of your house can make a huge difference in turning something that is tired and dated into something that fresh, new, and really makes you feel welcome when you arrive home.
No matter the reason for your next exterior house painting project, BJA Painting Services provides high quality and professional exterior painting work. From small touch-ups and repair work through to decks, house washing and complete re-painting of your entire house.
BJA Painting services will ensure that work is complete to a high level of quality and that all necessary prep work. Such as paint stripping, sanding, and filling is done properly allowing for a perfect finish that will last for years.
Over 25 years painting houses in Auckland. For all your interior/exterior residential and commercial painting needs contact BJA Painting Services today.
© 2018 BJA Painting Services